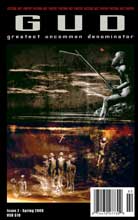 Things have been extra crazy at GUD, but we think we've ironed out the last of the fires, and hatched the last of the battens. Thank you all for your patience with us while we get Issue 2 out the door.
So while we don't have them in hand yet, and as such we're not doing our HUGE RELEASE NOTIFICATION -- We've updated the website and make Issue 2 available for purchase--print, PDF, subscriptions, etc. And we'll be sending out PDF advance review copies shortly (might start on that tonight).
If you want to start spreading the word, it would be appreciated. :) Or at the very least, I didn't want you to be surprised if someone else happened to mention to you that the website has been updated to reflect Issue 2. :)
We've got graphics available if you want to use them here:
http://www.gudmagazine.com/info/affiliate.php
And I've tried to make the table of contents page a little more readable, a little less overwhelming... as always, I'm open to suggestions. There's still strong rumors of a full site redesign happening in the next couple of months. :)
This is going to be our first big release with the Buy One Gift One PDF system, and I'm really looking forward to how that works out.
Oh, one thing I forgot to mention--the content really is available for purchase. Ordering PDF or Print will let whomever download the PDF as soon as the transaction clears (which is generally pretty much immediately, except for e-checks). :)